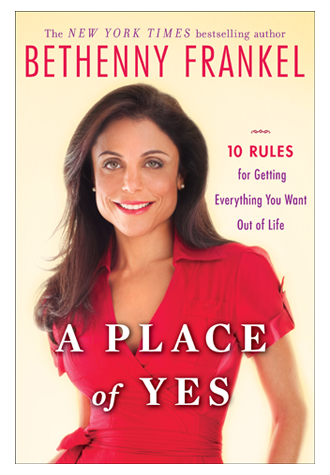 I really related to and liked Bethenny Frankel when I used to watch The Real Housewives of New York City. I liked her even more on her spin-off shows. I think she is a really admirable businesswoman and person so when I heard about A Place of Yes I thought it was something I should give a try.
In A Place of Yes, Bethenny shared things about her personal life that she never really goes into detail about on television. I think the book was an appropriate forum for her to be more forthcoming and transparent about her traumatic and fractured childhood. If she had shared that stuff on camera she might have come across as an attention whore or victim. In the book, she talks about her past as a learning tool. She shares how it shaped her as a person but did not define her.
There is some repetiveness and the book gets progressively cheesy although, not cheesy enough to be a deal-breaker. There is also a fair amount of self-promotion, which can be annoying but it is nowhere near as obnoxious as Oprah promoting OWN on her talk show.
She offers ten rules to live by. Some of the rules are a bit of a stretch or overlap with other rules but for the most part, I found a lot of inspiration in what she had to say. She talks about how we all have an inner voice that we allow to be stifled by noise - worry noise, money noise, family noise, etc. I could totally relate because I listen to outside noise all the time and I need to stop that.
At times, A Place of Yes does seem more geared toward the business-minded but it is meant for all women (sorry guys) from all walks of life with different goals whether they be entrepreneurial, romantic, familial, etc.
Unlike other motivational/inspirational fare I did read every word. I guess you could say it is half-biography so that makes it more palatable/interesting. If you are looking for a kick in the ass and need some words of wisdom from an interesting and relatable source, I would recommend A Place of Yes.